Buy Plow Pilot™ on Geotab Marketplace
Written by
Lisa Aceti
 | Read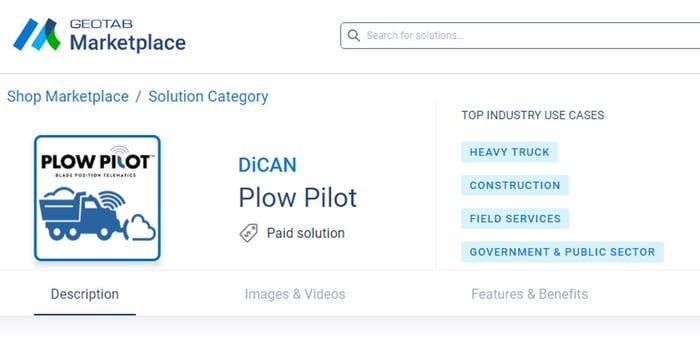 DiCAN Inc. Launches Plow Pilot on the Geotab Marketplace
Solution seamlessly captures and records accurate blade position to help Geotab customers gain greater visibility into their winter operations

Burlington, Ontario – November 3, 2020 - DiCAN Inc., a Southern Ontario-based distributor/installer of commercial fleet safety equipment, today announced the availability of its patented Plow Pilot™ on the Geotab Marketplace, a go-to source for top organizations seeking to better manage their fleets. Plow Pilot provides government and private sector customers with access to an innovative and reliable solution for snowplow blade position reporting.

Integrating seamlessly with Geotab's telematics platform and Public Works offering, this solution uses air-over-hydraulic trigger signals to sense, capture and transmit precise snowplow blade positioning, enabling customers to gain visibility into real time plow blade action directly from the operators control levels. Unlike hydraulic pressure switches or proximity sensors, Plow Pilot is an in-cab solution that has a lower risk of failure or damage caused by exposure to adverse weather, helping to reduce vehicle downtime and minimize maintenance costs. Plow Pilot offers users a range of options suitable for all types of Winter Control vehicles and assets, including both air-over-hydraulic and joystick electric vehicles as well as front, wing, and tow plows, tow trailers, underbody scrapers, rotary brooms, and windrow blades.

"Plow Pilot was conceived and developed more than eight years ago to address the industry's need for a more accurate and reliable blade position reporting system," said Michael Shirchenko, Partner, Head of Product Engineering & Development, DiCAN Inc. "Geotab is the number one commercial telematics vendor in the world and we are honored to join its world-class ecosystem to offer Plow Pilot on the Geotab Marketplace."

Geotab, the world's leading connected vehicle company for smart city and fleets, offers an extensive ecosystem of valuable, business-focused applications and Add-Ons via the Geotab Marketplace which helps provide businesses with the tools needed to better manage their fleets. With the addition of DiCAN's Plow Pilot on the Geotab Marketplace, the over 40,000 Geotab customers worldwide will have access to a solution that provides access to reliable and accurate snowplow blade telematics data.

"We are pleased to welcome DiCAN to the Geotab Marketplace. With the winter months quickly approaching, it is important that governments and private sector winter maintenance fleets are equipped with tools, like Pilot Plow, to help optimize their current and future winter operations," said Louis De Jong, Executive Vice President, Geotab. "To help ensure government fleets are supported all year long, Geotab is dedicated to providing government fleet managers with superior integrations and improved visibility of their seasonal and ongoing maintenance vehicles."

Plow Pilot is currently available on the Geotab Marketplace at: https://marketplace.geotab.com/solutions/plow-pilot/

###

About Geotab

Geotab is advancing security, connecting commercial vehicles to the internet and providing web-based analytics to help customers better manage their fleets. Geotab's open platform and Marketplace, offering hundreds of third-party solution options, allows both small and large businesses to automate operations by integrating vehicle data with their other data assets. As an IoT hub, the in-vehicle device provides additional functionality through IOX Add-Ons. Processing billions of data points a day, Geotab leverages data analytics and machine learning to help customers improve productivity, optimize fleets through the reduction of fuel consumption, enhance driver safety, and achieve strong compliance to regulatory changes. Geotab's products are represented and sold worldwide through Authorized Geotab Resellers. To learn more, please visit www.geotab.com and follow us @GEOTAB and on LinkedIn.

About DiCAN Inc.

DiCAN Inc. provides innovative fleet safety solutions to help private sector and government better manage and protect their vehicle assets. Since their beginnings in 2000, DiCAN maintains the belief that accidents are predictable and predictable is preventable. With a core focus on the construction, municipal/public works, transportation, and utilities industries, they offer commercial solutions to private enterprise, DOT/municipalities, OEMs and Upfitters across Canada and in the United States.

Michael Shirchenko, Principal Partner holds North American patent rights for DiCAN's raised dump box warning system called Good to Go™ and Plow Pilot™ their snowplow blade position reporting device. In addition to their own patented products, DiCAN partners with world-recognized brands to resell high-quality vehicle safety solutions for collision avoidance and fleet management, including camera systems, telematics, and various obstacle warning systems and safety alarms. To learn more, please visit www.dicaninc.com and follow us @dicaninc and on LinkedIn.
Published 3-Nov-2020 8:45:00 AM