Fixing the Problem to Reduce Box Up Accidents
Written by
Lisa Aceti
 | Read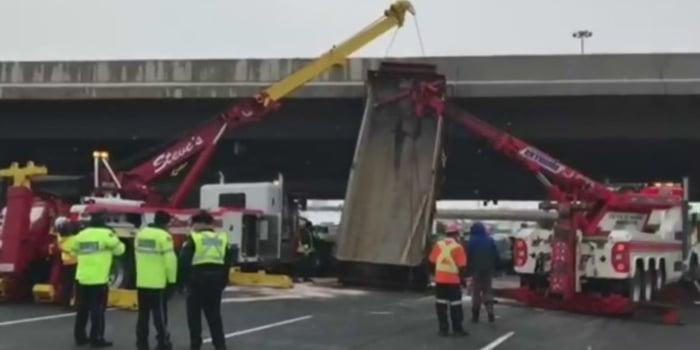 Overview
Spring has Sprung. Are you Good to Go?
No overhead sign, service cable, underpass or bridge is immune to the dangers of an oncoming truck with a raised dump body. Serious accidents involving dump trucks continue to surge, part of a persistent, multi-industry problem in spite of increased fleet and vehicle insurance premiums.
Experts say distracted driving, involving cell phone use and speeding, as well as by-the-load incentives and fatigue, are among the leading causes of accidents today.
"Imagine you are shouldering on a county road or drop spreading gravel. Your box is up, you are slowly moving, maybe six or seven mph, the view in the exterior mirrors focusing on the work behind you. The radio could be on, a call could have come in, next thing you know, the flag man is waving you off. You head out, down the road forgetting your box is still raised. It happens, more often than you would think." explains Michael Shirchenko, Technical Manager at DiCAN.

Some advocates are calling for overrides or signals that would prevent a driver from operating a truck with the bed elevated. There is already a warning light on most trucks, but it does not prevent the driver from operating the truck anyway. Thus, a warning light by itself cannot solve the problem.
Mitigate the Risk by Eliminating Human Error
Humans are fallible and errors are to be expected, even in the best organizations. Although we cannot change the human, we can change the conditions under which we work. Box up accidents are predictable and predictable is preventable.

Fleet vehicle safety experts at DiCAN Inc. have taken a systems approach to predicting and reducing box up accidents. DiCAN has been providing the construction industry with reliable and tech-smart box up alarms since 2012. The solution, aptly named Good to Go™, continuously monitors and alerts the unsafe position of any extendable component, including dump truck boxes, pup trailers, lift buckets, booms, concrete throwers and more. When a truck's components are fully retracted in their home position, only then are they, Good to Go.

DiCAN's solution is the only device available in the market that can simultaneously communicate the unsafe position to operators inside the cab and any other third-party device or method outside the cab. Its patented technology is capable of communicating real-time with Fleet Managers and Operations Control back at the office, making everyone acutely aware at all times.
More Reliable than a Whisker Switch
With two customizable solutions to choose from, the Good to Go™ Warning System consists of a smart-controller, installed inside the cab, and a tailor-made IP66-rated magnetic switch assembly, mounted outside to the truck body chassis. Of particular interest is the Elite (DBSA-12-E) a 2-stage light + sound alarm; pre-configured to emit both pulsed and continuous signals relative to a vehicle's road speed.

Shirchenko goes on to say, "Having the Good to Go Elite installed on that truck means the operator wouldn't get too far down the road with his box raised. As soon as he exceeded the pre-set speed threshold of eight mph (12 kph), the Good to Go would begin to emit a steady audible alarm, the top-mounted dashboard LED would remain brightly lit, and if there was an onboard AVL device, an instant alert could immediately send a text or email, warning dispatch."
Regulations and Requirements
Government lawmakers and industry safety professionals have sought to cut the accidents by regulating technology to keep a closer watch on what happens on the road.

Amendments to the Quebec Highway Safety Code (C-24.2, r. 9.2) came into effect on April 18, 2019 for the province. The changes include provisions requiring new audible and visual warning equipment for all trucks, trailers, and semi-trailers with a roll-off or dump body traveling in or through the province. Under the Code (new section 285.1), offenders could face a fine of $350 to $1,050 for non-compliance.
A Word to the Wise
Raised box accidents are costly and disastrous, for the truck, the driver, the impacted structure, other motorists, and any passersby. It is only a matter of time before federal legislators follow suit and established new safety standards for all vehicles with extendable components.
The ultimate responsibility for safe operations is carried by the business owner. Good News: There is a solution.
Published 5-Apr-2021 10:30:00 AM