Good to Go™ Alarm
DiCAN Inc.
Raised Dump Box Warning
More reliable and accurate than pressure switches and proximity sensors.
Vehicle OBD port-connected; alerts raised dump box position while driving
In-cab 2-stage alarm: visual, audible, speed-connected
Rhodium non-contact magnetic reed switch; tamper-proof, not prone to failure
Integrates with most major telematics
Your fleet's most trusted box up alarm system since 2012.
The most innovative microprocessor available to continuously monitor and alert unsafe positioning of any extendable component such as dump truck boxes, lift buckets, booms and more. Making operators acutely aware when a truck's components are retracted and they are Good to Go™.
A cross-industry solution, suitable for
HIGHWAY SAFETY CODE COMPLIANT
Advanced features guaranteed to meet Highway Safety Code (chapter C24.2) SAAQ Tipper Truck Regulations in effect September 1, 2020.
CONTINUOUS POSITION MONITORING
Automatic self-diagnostic check upon ignition. Constant 12 volt output connects to any internal or external warning device, including onboard GPS/AVL device.
MOMENTARY MUTE CONTROL
Limit driver annoyance while moving at reduced speed during shouldering or unloading, automatically alarms over 12 km/hr.
CUSTOMIZABLE SETTINGS
Configure to suit your specific needs: speed control warnings, mute time, beep frequency, light flash frequency, park brake position, output to external horn.
Elite (for advanced light + sound + speed indications directly from vehicle diagnostic port)
Basic (for simple up + down indications; no road speed capabilities or 2nd Mag Switch connection)
Accessories
2nd Mag Switch Extension Kit
Park Brake Switch Kit
Momentary Mute Push Button
Supplemental Dashboard Indicator Light
U.S. Patent No.: 10,106,175 CDN Patent No.: 2,999,602
What is the Good to Go™?
This unrivaled Light + Sound Warning System makes operators acutely aware when a truck's extendable components are retracted fully; back to their original home position. Only then, is it okay for the vehicle to proceed safely – only then are they Good to Go™.

What makes Good to Go™ different?
In a few words: second to none accuracy and reliability.
The Good to Go™ system utilizes the most superior contact control system in the market, containing a rhodium contact reed switch and all stainless steels parts. Its compact control panel is installed inside the cab and hardwired to the vehicles diagnostic port, guaranteeing accuracy and reliability. Additionally, it's self-contained, tamper-proof and weather-resistant, and has no moving parts that require maintenance or service.
Highway Safety Code Compliant:

SAAQ Tipper Truck Regulation (C24.2)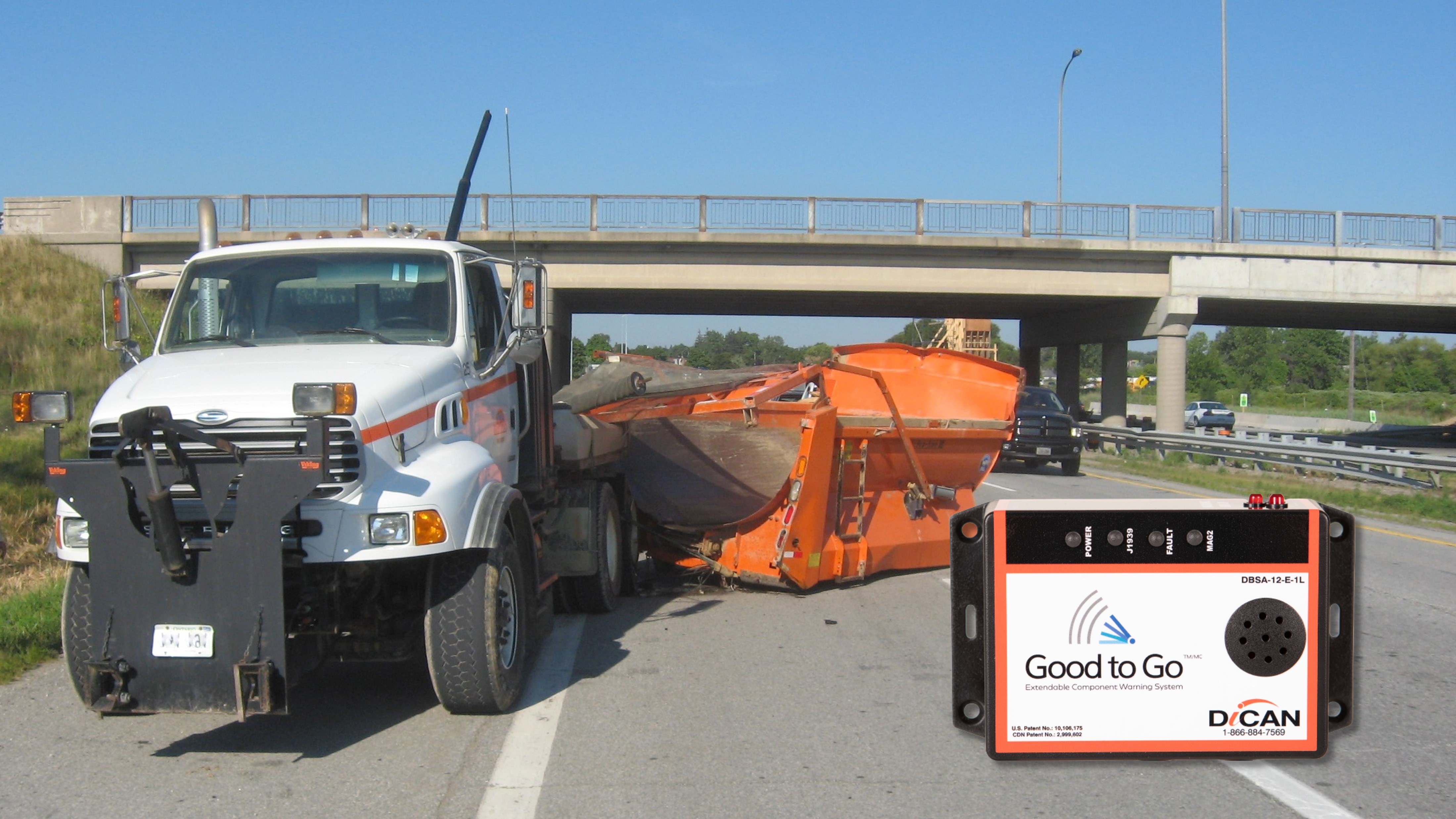 Speed-Connected
The Good to Go™ is unequivocally the most accurate box up warning system in the market.
Direct-connection to the vehicle's diagnostic port provides reliable, continuous position monitoring.

Configured to emit pulsed and/or constant lights + tones based on vehicle speed and box position.
Alerts + Reporting
Patented SMART software inside, connects to any internal or external warning device, including onboard GPS/AVL device.
Fleet Management; receive instant alerts
Driver-training; set exception reports and view vehicle metrics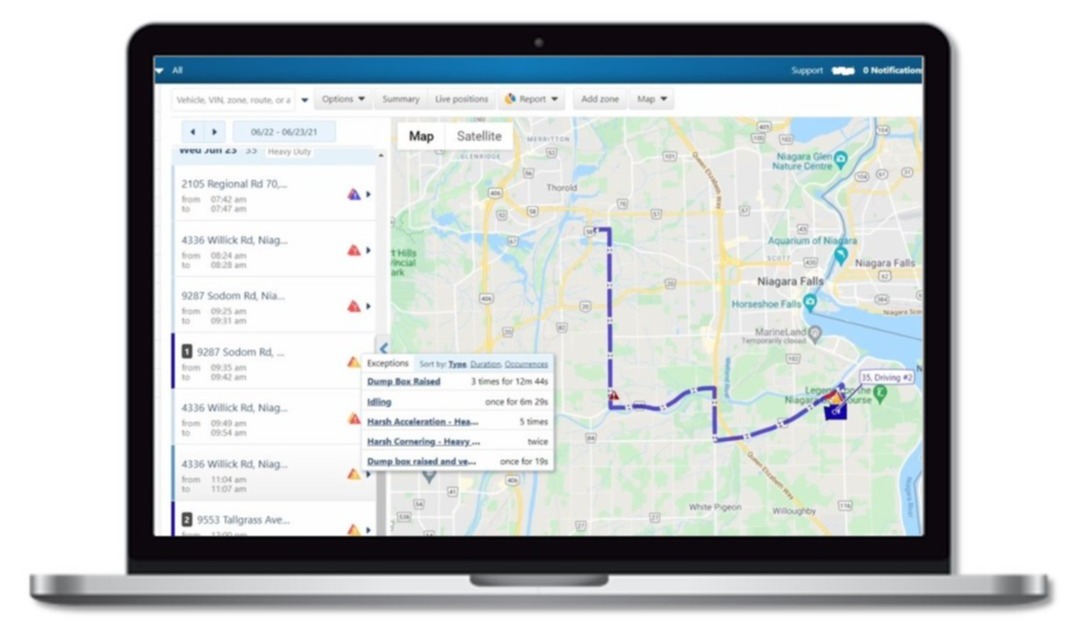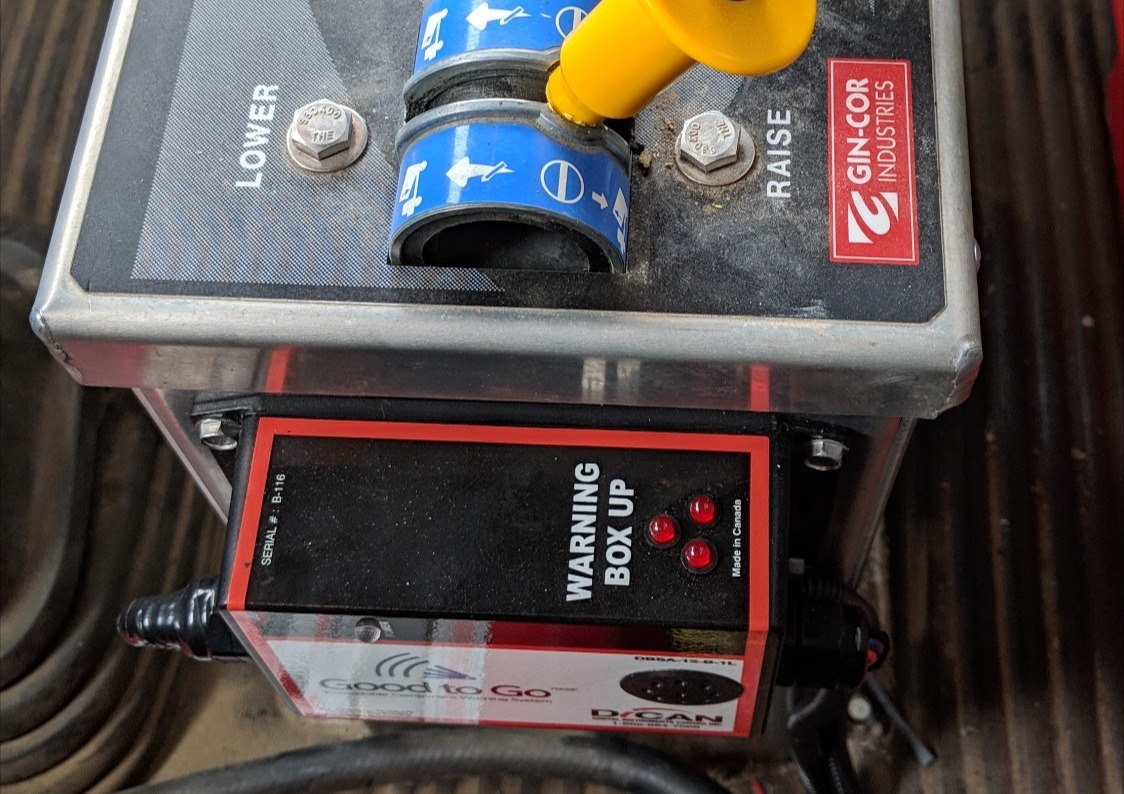 In-cab Solution
Hardware sealed and protected from adverse weather, exposure to fluids, grit or grime.

Self-contained, no moving parts, no downtime for repairs or maintenance.
Does not alter lift controller functionality or void truck manufacturer waranty.

Supplemental dashboard indicator light and momentary mute button available.