CAMERA SYSTEMS
Video Telematics. Your Best Defence.
View Only: For Driver-Assistance
Reversing Safety
Rear blind spots are difficult to manage and make parking, towing and reversing both dangerous and difficult. Consider adding a back up camera and ultrasonic/radar sensors with monitor screen overlay for a more complete solution.
Ancillary Cameras: For Driver-Assistance
Busting Blind Spots
When mirrors are not enough, the installation of a single view camera can eliminate dark spots and expand the driver's points of view. Having a clear view into the waste hopper, along side a sweeper broom, or even at the pivot-joint of an articulated vehicle makes all the difference when capturing images and video for claim support.
Recorded Views: Stand Alone
Dash Cameras
Forward-facing cameras with optional ADAS-features deliver better visibility into on-the-road safety. Recorded footage is captured onboard via SD card. The addition of driver-facing cameras can provide distracted driver intelligence so that incidents can be prevented before they happen.
Recorded Views: Connected
Remote Access
Connected cameras make it possible for fleet managers to log-in and view road-facing video, driver-facing video, or both in real-time and archived. When incidents occur, seeing what drivers see facilitates responsive action with instant play-back options. Virtual rided-alongs can also assist with driver training.
Recorded Views: Connected
Real-time View
React and respond to real time situations

View live video feed to assist with time-sensitive situations

See weather on-location
5", 7', 10" HD LCD colour
Touchscreen
Quad-view
Trigger priority views
IP66 waterproof options for rugged use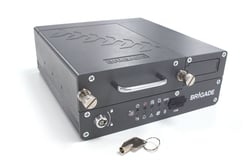 4-channel, 8-channel
4G/Wifi/GPS tracking
128GB, 1TB, 2TB storage
Triggered recording modes
Automatic event uploads